Pager Systems

for fast, targeted, event notification
Pager systems are used to notify specific people what action to take when specific events require their attention. Modern sophisticated software-based systems can process complex and potentially-chaotic real-time situations into a smooth-flowing sequence of highly-effective instructions, and send them to the right people at the right time.
Smoothing the peaks and hollows

Paging can smooth the operational peaks and hollows experienced by many 'interactive' organizations such as: healthcare, hospitality, education, business and government.
In the beginning, pager systems were simple; a public address system with loud speakers distributed around a building. If you were away from your phone you could be paged. But this was audio broadcasting at its worst. It wasn't selective. Everyone could hear it. It was disruptive, inefficient and lacked privacy.
Now wireless technology and computing have converged to produce a new generation of intelligent messaging. Pager systems are now expected to be intelligent, selective and seen but seldom heard.
They must selectively decide who to call, depending on a particular set of circumstances, and be able to send traceable messages to many common electronic communication devices, including dedicated personal pagers, Smartphones and tablet computers.
Think of modern pager systems as...
smart communications systems that

monitor real-time events


make decisions based on pre-programmed rules

prioritize those decisions

notify the right people

via the right wireless communication device


with the appropriate level of urgency.
These real time events can come from a wide variety of new or existing systems, anytime and in any order. Good modern paging systems work in the background and don't need much human intervention.
Paging in a hospital is probably the most demanding application you could imagine. Critical events occurring anytime, any place. require an intelligent hub that can make decisions on who to notify, what action they should take and how urgent it is.
Because paging in a hospital environment covers most aspects of a paging system let's use it as an example of what to think about when considering pager systems.
Things to consider in a hospital communication system

It's important for all hospital staff, and especially patients, to have confidence in the way a hospital functions. Patients can feel very vulnerable and the quality of the patient's stay in hospital is likely one of the best single indicators of the quality of the service provided and may reflect how well the organization is running overall.
It can be reassuring for patients to see calm hospital staff moving purposefully to the right place at the right time, being effective and carrying out their duties well. But misdirected activity can contribute to problems throughout an organization.
In a hospital environment where routine schedules are often interrupted by higher-priority tasks, the risk of misdirected activity can be higher than in many other organizations. The thing that impacts on every activity, and has the potential to bring the most benefit, is a good hospital pager or communications system.
Hospital communications systems are known by various names including:
critical messaging systems
notification systems
event management systems or


pager systems

.

They can automatically notify those needed to respond to a particular set of asynchronous incoming events, often without human intervention and with minimum delay.
What does a hospital communications system do?

The simple diagram below overviews the process as three discrete functions where:
Disparate and asynchronous events are input to an event management system
that sends prioritized messages to selected personnel

according to a set of 'living' scheduling rules and conditions.

There are small systems and large systems, and some that can be 'grown' along with an organization.
Here are some of the main criteria you may want to consider if you are considering investing in a hospital communications system.
Integrating with existing equipment

It's important that a new or upgraded hospital communications or pager systems can be easily integrated with any existing equipment.
It must be inter-operable with other already-established systems such as:
nurse-call
security
fire
duress
patient monitoring
medicine fridge temperature monitoring
test result tracking
asset tracking, etc…

and a variety of wireless personal communications devices.
Communications must be traceable

All messages should be traceable/back-trackable to provide a clean audit trail.
This is essential in a hospital but may be less so for some other applications such as those used in restaurants.
Therefore, in hospitals, messages need to be recorded with all the information associated with the notification:
Who sent it, and

when was it sent?

When was it received?

When was it responded to, etc?
Traceability is essential to meet modern healthcare standards and an important tool for management to see opportunities to improve the quality of care for patients and improve operational efficiency - things that affect both staff and patients positively.
A mix of:
excellent end-to-end communications, and

defensible traceability

may significantly reduce any risk of malpractice. And you may be able to negotiate lower insurance payments on the basis that your level of risk would be lower.
Pager systems need to be scalable

You don't want to find, sometime in the future, you've expanded to maximum capacity and can't add any more communications devices, or can't increase the number of input devices, or can't increase the rate of messages, under increasingly complex situations and increasing expectations.

Communications systems as a management tool

There's another benefit that may be available too. If you want to be able to receive enterprise-wide information on the effectiveness of your organization, look for a good server-based (dedicated computer) system with database capability.
This would let you:
generate reports

enable you to carry out analysis

identify areas that can be improved on

enable the flow-on of continuous improvement in the quality of patient care
reduce the risk of accidents and improve overall operational efficiency.
Future proofing

Avoid an inflexible system that may soon become outdated.
Look for pager systems that can support and capitalize on new emerging technologies and generally move with the times.
There are an increasing number of new devices being developed and it's inevitable that some of these will eventually need to be integrated into the system…
in particular, new types of sensors, for detecting an ever increasing variety of patient conditions…
the area of bio-sensing is in its infancy, is going to grow dramatically and will need to be accommodated.
Special software (often referred to as middleware):
looks at many diverse event inputs

can often instantly make the 'event-driven' decisions that

send the right messages

to the right people

at the right time, and

optimize outcomes.
System support

Decide on the level of system support you will need and avoid pager systems that can't offer it.
Look for a supplier that provides options for on-line and on-site technical support, up to 24/7/365 if necessary. It's a form of insurance that can contribute to a general lowering of risk probability.
Rules for linking events to responders

Avoid systems that aren't flexible, can't be programmed easily and can't have scheduling or prioritizing rules changed easily.
Look for pager systems that enable you to:
configure your own rules

notify specific people within your organization

on the right communications devices

from a specific set of circumstances that is unique to your operation.
Every operation has its differences, and you may need special instructions, such as those that may cover a prioritized isolation sequence to be carried out in the event of a local outbreak of infection, or wider notification for an outbreak that has spread beyond the hospital. There are both local area paging and wide area paging options available.
Quality of the product

Avoid pager systems made by a company that can't substantiate the quality of its products. Look for a supplier that can demonstrate success with its products and cite satisfied clients.
Look for examples of other organizations similar to yours that have used this type of system and will recommend it.
Those representing the product should be familiar with how the product would enable the organization to comply with any relevant healthcare standards.
Company stability

Avoid a smaller/weaker company that may not be around for long.
Look for a company that has enough 'critical mass' and momentum, with an excellent product/service in a good niche, not likely to be limited by poor cash-flow and inferior product problems.
Return on investment

Good hospital pager systems should ideally pay for themselves, through:
efficiency gains

Intangible benefits, such as happy staff and

satisfied patients, ready to recommend your medical services
These are hard to directly link to revenue, but undoubtedly contribute to it indirectly.
A good system may enable an organization to negotiate a lower insurance premium if risk is deemed to be less due to a significant increase in 'operation effectiveness'.
Supports Smartphones and tablets

With new types of wireless personal communications devices becoming available, more hospital staff may want to use devices such as Smartphones and tablets.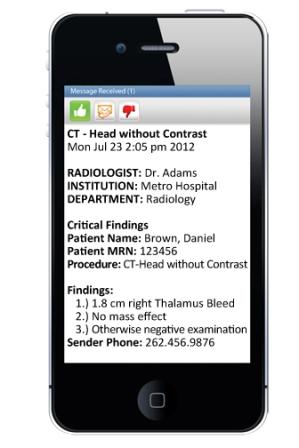 In the foreseeable future, notifications and alerts will be sent to a mix of communications devices that include:
wireless personal pagers
Smartphones
tablets
iPhones
web-browsing devices

The ratio of this mix will depend on factors such as:
communications effectiveness
convenience
personal choice of communications device
cost
In hospitals, ordinary SMS messages do not meet the required standards for healthcare communications.
Here's a Smartphone that does meet the standards, but its not the Smartphone itself that does the magic... it's the software application that's running on it and the intelligent system that sent the message. This is a nice example of how a clinical test result is sent directly to the patient's doctor, with all relevant information... without delay. (Photo Amcom Software)

But with ordinary SMS messages there is no guarantee that a message will be delivered, on time … or at all. Even if it were reliable, it certainly wouldn't meet the mandatory privacy requirements for healthcare communications.
SMS messages aren't reliably traceable. They only work over cellular networks and, as they won't work over Wi-Fi, you can't use Wi-Fi as a backup.
Look for pager systems that can
securely support Smartphones and tablets, along with pocket pagers

track the progression of a message, enabling end-to-end traceability.
But also consider the disadvantages when thinking about their advantages.
Advantages…
Many will find it convenient to use a single device for all communications rather than have to carry a phone and a pager.
Smartphones and tablets should also work on your organization's secure Wi-Fi Local Area Network and may:
provide an alternative to cellular communications
provide better coverage
be more secure

cheaper to operate.
Under normal conditions notify/acknowledge response times may be faster with these devices… but note the exceptions below.
Disadvantages…
When working on a cellular network, the response time may depend on the amount of traffic the network is handling at any given time and if cellular coverage is patchy you may not get reliable communication everywhere.
Sometimes cellular networks can become overloaded, causing delays. In extreme weather events cellphone towers can be knocked out. In the case of mains power failure, the duration of cellular network station batteries (for backup power) may only hold up for a short time.
In healthcare, patient confidentiality is essential and mandatory. Tablets and Smartphones communicating via a cellular network generally don't operate within the same secure electronic transactions that pagers do. They can get lost or stolen. Pagers don't have the same problem as they don't have to share communications channels with the outside world.
Some pager systems are designed to work on a:
Wide Area Network (WAN), and others on a

Local Area Network (LAN).
The patient confidentiality problem can be overcome if the system supplier can provide a suitable application software (app) to make:
confidential information secure
keep it private during communication, through encryption

keep it private after communication, through selective message deletion
This software should include the hospital's contact directory look-up/authentication. It should also separate urgent messages from routine ones, perhaps sending them to different in-boxes.
A healthcare communication system must comply with standards, such as:
that regulate electronic healthcare transactions; and the inevitable transition to newer standards, such as compliance with parts of ICD-10 in 2013.
Text messaging does not comply.
Mains power failure - back up

Hospitals usually have emergency power generators to run essential services.
The hospital communication system must be considered essential and connected to the emergency system. The robustness of the communication system would be enhanced if it had its own power backup that would maintain its operation even if the emergency system didn't work.
Failure of the emergency system would then be an input to the event manager which would alert someone to attend to the emergency generator.
What size system do I need?

There are smaller standalone modular pager systems for smaller operations and larger server-based systems for larger ones.
To determine the size of your system you'll need to consider:
all the factors that will generate messages

the maximum rate at which they may be generated

the communications devices the messages will be received on

then allow for growth.
Here are examples of some of the monitoring systems that can send events to a standalone or server-based event management system and examples of typical communications devices that you may want to use to receive and acknowledge messages. Their actual numbers will need to be estimated, for example, from…
Examples of event inputs

Here are some things that you might want to tie into a hospital notification system.
Patient monitoring...
Infusion Pump
Pulse Oximeter
Nurse call
Telemetered coronary care 
Utilities...
Ventilator System
Security System
Fire Alarm System
Duress
Operational...
Critical Test Results
ADT System
Infant Protection
EMR
Blood Bank Fridge
Bed Management
Communication devices

Here are some devices that can receive the targeted notifications...
Pager devices...
On site personal pagers
Wide area personal pagers
Phones and other hand-held web-browsing devices...
iPhones
Android Smartphones
Blackberrys
Tablets
Miscellaneous...
Voice badges
Web browsing devices
Desk phones
Two-way digital radiosSpeech recognition device
A paging system supplier's role
A hospital communications system supplier can
make a matrix of all your present and projected event inputs

help set up the notification rules
decide on the communications devices to send the notifications to

provide installed/configured cost

provide time estimates for an appropriately-sized, but scalable system
If there's anything else you'd like to know about pager systems, please fill in the form below and we'll do our best to help.
---
A
Wireless Personal Pager
needs to do more than just receive messages and display them. Messages may sometimes be a matter of life or death so it can be critical that pagers and the pager systems that send them messages, are completely reliable. Pagers must be easy to use and robust.
---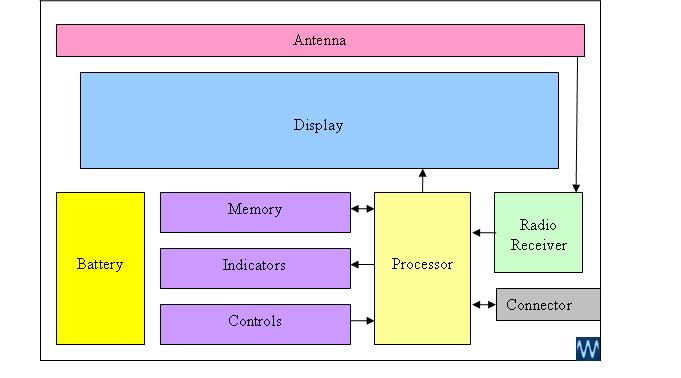 How Do Pagers Work?
This question can be answered by considering a pager, not just as an individual communications device, but as part of a larger messaging system intended to instantly notify people of important events that they need to respond to.
---
Go from Pager Systems to the Home Page
To top of page