Wireless Personal Pager

receive messages and alerts instantly
A wireless personal pager should do more than just receive a message and display it. Messages can sometimes be a matter of life or death so it's important that pagers and the pager systems that send them messages, are completely reliable. Pagers must be easy to use and robust; tough enough to survive normal daily use and occasional abuse.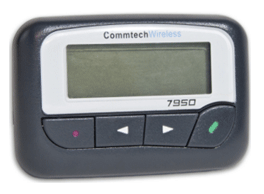 At one extreme a wireless personal pager may be part of a simple system that only sends it non-urgent messages. But at the other it may need to receive and display clear, prioritized, urgent messages that have been resolved from a number of confused and time-critical situations.
Here's an example of a modern wireless pager with LCD display and operating keys. Photo: Amcom Software
Reliability - wireless personal pager vs environment

While the role of a wireless personal pager is simpler than the paging controller, or server, that organizes and sends it the messages, the pager must work reliably in an uncontrolled and sometimes hostile environment.
Unlike the controller, the pager doesn't have a permanent position in a warm, dry place, or a guaranteed supply of city mains power to keep it running.
The pager is usually on the move, is sometimes sat on, dropped, lost, bumped and may end up in locations with low wireless signal strength… but we still expect it to perform 100% 24/7/365.
Occasionally a pager may even see the world from inside a washing machine, or be struck by the 'lightning' of an electrostatic discharge, after sliding across a car seat on a dry day as its owner gets out of the car.
Reliability starts with good design. A pager must be fit-for-purpose, on its own and as part of a system.
Wireless personal pager design should start with a specification, describing how a user would expect to use it. And the design needs to ensure the product will operate reliably under worst-case conditions…
work with low wireless signal strength

be shock resistant

be splashproof; coffee and water proof

be immune to interference from other radio signals

be immune to having its own configuration corrupted by electrostatic discharge or radio transmission from nearby devices. But even if it did, the design should make it 'fall back' to a 'safe mode' or reset itself. It should be practically impossible to accidentally mis-configure.
Meeting the standards

Industry standards have been set up for testing how well products will survive their intended use. How the environment can affect a wireless personal pager, and vice versa, can be tested against these standards.
For example, there's a standard for minimum acceptable resistance to mechanical shock, and products that comply with this standard are expected to survive being dropped onto a hard surface.
There are standards that specify by how much a product must be dustproof, splash-proof, water-proof or immersion-proof (at specified depths).
The electronic circuitry inside the pager must be able to withstand electrostatic discharges. They mustn't cause the pager to malfunction, either temporarily or damage it permanently; it should self-recover if it is affected.
And just as the environment shouldn't reduce the reliability of a wireless personal pager, a pager should be designed and manufactured to have minimum impact on the environment…
Like most electronic equipment it should comply with standards that ensure it doesn't emit unwanted radio frequency signals that may interfere with other electronic equipment, particularly in a hospital environment where the consequences may be serious.
Pagers should be designed with non toxic materials, including lead-free solder. They should minimize packaging and have a disposal plan for the end of their lives.
Approvals for performance standards such as CE, FCC, ACA C-tick, RoHS, ATEX, cUL, and IC are strong indicators of a well thought-out product… from design, through manufacture, over its working lifetime to disposal at the end of its life.
Batteries
A wireless personal pager should use very little power to ensure the batteries will last as long as possible. Battery life can vary significantly, depending on how often the pager receives a message and how frequently it uses power-hungry modes such as vibrate. Because it can be so variable, it's important that battery changes are managed properly.
A good design should accommodate a rechargeable battery, but should also operate with easily-available alkaline batteries when there isn't time to recharge. It should include an accurate battery indicator. If you always use the same pager, then changing the battery, for example, on the first day of the month every month, may be the simplest way to manage this.
Compatibility
A wireless personal pager needs to be compatible with the rest of the pager system. If you buy pagers that are made by the same manufacturer that supplied the paging controller, then you're off to a good start as they are more likely to be compatible, though you'll need to make sure they can work on the same frequency and use the same protocol…
Frequency
Wireless technology carries the message

The paging controller transmits Radio Frequency (RF) electromagnetic energy to carry the messages to the personal pager. The pager receives some of this RF energy, removes the information from it and, if the message is intended for that pager, it displays it.
Pagers work within radio frequency bands

While ranges may vary for different countries, and there may be restrictions within the ranges, pagers usually operate in channels within these RF bands:
Successful message reception depends on being able to receive sufficient signal to remove the message from. This depends on
frequency

the length of the path between the paging transmitter and paging receiver

obstructions in the path that can absorb and scatter the signal

how the information is coded onto the RF carrier
An out-of-range indicator is essential.
A good modern paging transmitter will allow you to program the frequencies you require. This means you can select frequencies that comply with your country's radio regulations and don't clash or interfere with other devices already being used.
The pager frequency must match the paging system transmission frequency.
Narrow band required
You need to ensure that wireless personal pagers and pager systems are able to work on narrow band as this is becoming mandated in most countries and is an obvious and inevitable move to make use of these bands more efficient.
Channel spacing needs to be 12.5kHz (narrowband), replacing the older 25 kHz (wideband).
What's Hz?

Hz (short for Hertz) is the standard unit of frequency.
It used to be called cycles per second. Easier to understand, but took longer to say and was renamed Hertz. 138MHz means 138 million Hertz. So every second this RF 'message carrier' alternates or cycles 138 million times; over two million times faster than the low 50 or 60 Hz frequency of your city mains power supply.
Protocol
A paging protocol enables pager systems to 'talk the same language' so that a wireless personal pager will work with systems made by different manufacturers, provided those products have been designed to work with the same protocol.
The main protocols are
The paging transmitter sends messages laid out in a prescribed format. The receiving pager 'understands' this and 'expects' any incoming message to be in this format. It can then interpret the message correctly.
Programming a pager

A wireless personal pager is generally easy to program, either via its buttons or with a computer, using a USB cable and pager programming software.
An important programming option may let you over-ride an inaudible setting when there's an emergency and a high priority message, such as a code call, comes through. Some pagers can beep and vibrate with a pattern that indicates the level of urgency.
The display
The amount of information that can be displayed on a wireless personal pager is a trade-off between being easy-to-read and the need to make the pager pocket sized. Typical pagers have lines 20 alphanumeric characters long, arrayed as two lines (larger text) or four lines (smaller text). Ideally you can zoom to the larger text when necessary.
The display is usually a Liquid Crystal Display (LCD). In low light conditions they may be backlit with Light Emitting Diodes (LEDs). LED backlighting uses very little power and the pager's LCD display uses even less.
Size and weight

A wireless personal pager is typically quite thin (20mm / 0.8"), and around 75mm / 3" x 50mm / 2".
Weight, with batteries, is typically around 150g / 5oz, similar to a Smartphone.
You can give a pager extra protection by enclosing it in a protective holder or holster. These may be offered as optional accessories. You may find these useful in places where protection is more important than size and weight.
Adding value to messaging

Modern paging systems can process incoming events in real time, make decisions based on prescribed rules, prioritize and serve messages to a wide range of mobile devices, including wireless personal pagers and Smartphones.

Learn about Pager Systems here
From Wireless Personal Pager To Home Page