Wireless Internet Cards For Laptops
For Internet Without Wires

Wireless Internet cards for laptops let you connect to the Internet, without a cable, allowing you to move around while staying connected. The convenience of mobile wireless Internet on a laptop is hard to beat. Many wireless Internet card systems automatically search for available networks and connect you to the best option.
Wireless Internet access cards usually give you Internet access via

Short-range (Local Area Network) Wi-Fi

Cellular (Wide Area Network)
Some organizations supply cards that allow your laptop to connect to a Wi-Fi network when you're within range of it (the cheaper option), and connect you via its cellular network when you're not.

You can save a lot of money if you can access free wireless Internet locations. Providers sometimes offer unlimited free access to any of their own Wi-Fi hotspots.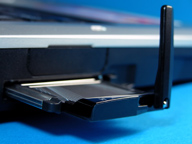 Wireless Internet cards for laptops come in different shapes, sizes and functionality to fit most laptops.
You can often buy a new laptop with a wireless card already fitted internally, however, an external card may provide more flexibility in some cases.
You can plug Universal Serial Bus (USB) cards into a spare external, compatible USB socket on your laptop. USB may provide more options when choosing the best Internet Service Provider for your area. And you can plug the USB sticks into other laptops. The monthly data plan follows the USB stick (not the laptop).
The USB Internet cards often contain a micro memory card, so you won't always need a separate USB memory stick to save your files on.
USB cards get their power from the laptop, via a connection in the USB slot, so they don't need a battery. They usually have one or more indicators to display their status, such as 'searching for a connection' or 'connected'.
Manufacturers are already giving wireless Internet cards for laptops extra functions. Some cards now have a Global Positioning System (GPS) built in, enabling you to access Internet information that's relevant to your location.


Short-range Wi-Fi Wireless Internet cards for laptops
Wi-Fi Local Area Networks (WLANs) are currently popular for a home wireless Internet connection.
When an Internet Service Provider brings an Internet access point into your house via cable or satellite terminal, it's easy to make it into a wireless access point by using a wireless router. A wireless access point enables laptops and other devices, fitted with wireless Internet access cards, to connect to the Internet.
Many larger organizations use Wi-Fi too.
Currently you get the best quality local area wireless connection with Wireless N. Its full name is IEEE 802.11n, named after the 802.11n standard. This has superseded the older Wireless G standard.
Wireless N is

fast - fast enough to stream video
reliable - resistant to interference and you can use it over a larger area
secure – has superior encryption for your security
Fit a wireless n adapter to your laptop and you can connect wirelessly to the Internet through a wireless n Wi-Fi Internet access point and take advantage of its superior performance.
Learn more about the Wireless N Adapter.
If you don't have a wireless access point, you can create one. The easiest way is to get a wireless n router and connect it between your Modem and desktop computer.
This also makes a very effective firewall that will help protect your laptops from hackers and viruses by creating a private wireless network.
Wireless Internet cards for laptops let you connect to public Wi-Fi Hotspots
Often you can find and access free wireless Internet locations – Wi-Fi hotspots.
These are popular, and they're becoming more common every day. Why? Most of us now expect Internet access to be readily available, and organizations that don't offer Internet access may lose customers.
You'll often find Wi-Fi hotspots in cafes, airports, hotels, libraries and other public places. They are usually configured to provide wireless coverage throughout a particular building.
Many Wireless Internet Service Providers (WISPs) have set up Wi-Fi hotspots at hubs of human activity. Companies that supply wireless Internet cards for laptops often supply wireless Internet access cards along with a payment plan.
There are many different plans, and their terms can change, so you need to check the details of the specific plan you're considering. Some providers will supply a card for free when you subscribe to their plan.
An Internet provider may supply the card as a part of the overall plan, where you pay for monthly Internet access. The card may be just part of the service, and not a separate hardware item that you would buy and own.
Wireless Internet cards for laptops – cellular connection
A cellular wireless Internet service for laptops can be spectacular, and at its best can deliver anytime/anywhere Internet to your laptop. This often gives you more freedom than you'd otherwise have when you're loosely tethered to a Wi-Fi connection.
But you may pay a higher price for this freedom.
To access the Internet via a cellular system you'll need to fit a cellular modem card to your laptop.


Speed depends on...

How far you are from the cellular tower.

How much data capacity is available on the provider's network. This will depend on data traffic conditions. Things may slow down during peak data traffic.

The size of the files you're transferring. The bigger they are, the longer it takes. It takes much longer to download high-resolution picture files than it does to download a text file, because with a picture, there's a lot more information to transfer.

The data speed of the card, and how it's configured. High-speed anywhere/anytime wireless Internet access is becoming increasingly available and providers sometimes provide a wireless Internet speed test to enable you to check the current data rate over the network.
Wireless Internet cards for laptops - what you should consider
Check coverage area first
Does the service cover the areas you want to work in?
In general, most Internet Service Providers provide good coverage in cities, but there can be areas within a city and outside it where coverage is poor. So check the exact locations.
How? Wireless Internet Service Providers often provide coverage maps. Some even offer an on-line video tutorial.
Which card?
A card needs to be physically and electrically compatible with the laptop you want to install it in.
Wireless Internet cards for laptops come in several different styles. Check your laptop manual to see what type of cards are compatible with it.
Express Card (includes mini and half mini)
USB
PCMCIA
You can buy adapters that let you fit a card type that's not directly compatible with your laptop.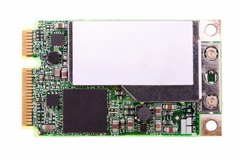 You can often buy laptops with wireless Internet access cards already installed. If you're planning to fit one yourself, first check out how easy, or hard, it will be to install. Will you have to open the laptop? If so, will it void your warranty? Should you get a tech to fit it for you?
Check the computer system requirements. Does your laptop use Windows XP, Vista, 7 or perhaps MAC OSX. Make sure that the card and its software will run OK with your laptop's operating system.
Many cards are 'plug and play' and will 'self install' if your laptop has a compatible operating system such as Windows.
If not, a card may come in a package that also contains a CD, with installation software on it. You'll need to ensure this CD is compatible with your computer. You'll find this information written on the box. Alternatively, you may be able to download this software direct from the manufacturer's website. This is often the best way as it's more likely to be up-to-date than software supplied on a CD.
If you go for the USB option, make sure that it will work with your laptop. For example, do not fit a USB2.0 Internet card to a USB1.1 laptop.
Standards
You'll see a number of standards for wireless Internet cards for laptops, including those for mobile Internet. For example...
GPRS, UTMS, EDGE, HSDPA, LTE and WiMAX.
The LTE and WiMAX standards support fourth generation (4G broadband) data communications.
LTE and WiMAX systems were designed for the wireless mobile Internet service and provide high-speed, quality connections supporting anytime/anywhere Internet access.
Price
Card prices can vary a lot, if you pay anything at all - and you may not, if the price of the service includes the provision of everything you need to receive that service, including the card.
A typical data plan allows you up to a maximum of X Gigabytes (GB) of data for Y$ per month. X and Y depend on what a particular service provider is offering.
When you check out wireless Internet cards for laptops, look at the whole service, especially the monthly data cost. Check out what the different service providers, who cover your area, are offering.
---
---


Go from Wireless Internet Cards For Laptops to How Does Wireless Internet Work
To Home Page
---
---
To top of page